In 1992, it opened its first nine holes, three years later it inaugurated the second nine and, if all goes to plan, at the end of the next year Santa María Golf will open its second 18-hole course. Located in the privileged Elviria area east of Marbella, Santa María Golf will therefore be able to respond to increased demand at the course, which last year registered 60.000 rounds.
The new course has been designed by Dave Thomas, responsible for several prestigious courses on the Costa del Sol and outside Spain, high-lighted by The Belfry – venue for various editions of the Ryder Cup, which he competed in as a young touring pro.
The Spanish architect of golf courses, Ignacio García, will lead the construction.
Construction is due to start "soon" on the new course, a par-72 longer than the current layout, according to Ali Saudi, managing director of Santa María Golf. "So we will be able to offer two different products: one shorter course, not altogether free of dificulty, and another championship-style course, longer, more open and with Dave Thomas´s trademark touches. The mountainous terrain means buggies are recommended.
The future layout will be situated to the north of the tollway, continuing on from the current course. Its construction will be undertaken in conjunction with a new clubhouse, to the north of the course. Hole numbering on the current course will be changed, to begin in the northern part.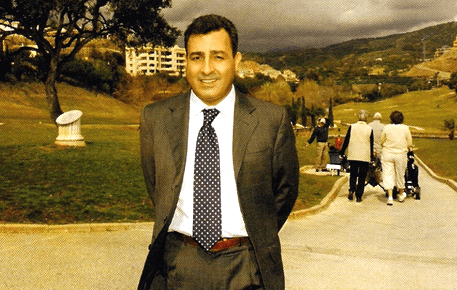 As far as a completion date is concerned, Saudi says "with luck, we´ll open it towards to the end of next year". Access to the new course will be similar to the current one: i.e. green fee or annual season ticket.
Saudi believes the solid number of rounds played at the course, in a market that is not entirely auspicious for certain tourism sectors at the moment, is due to "the good relationship between quality and price that we offer here, which enables us to attract more clients than other courses".
Residents in the area who play at the club – which doesn´t have any members but which offers season tickets – comprise about 30 per cent of the total, while the remainder are visitors or golfers who live in Marbella or its surrounding areas.
"Santa María is a short course but not an easy one. A golf course is a living being, which changes each year, with improvements introduced – on the green, in a bunker, on the fairway – so there is always an incentive, a level of dificulty in inverted commas, which continues to make it attractive to players, even though they might be regulars".
Course maintenance is impeccable, adds Saudi. "We are lucky to have a team that has been with us from the start, and that´s very important if you want to achieve the perfect condition this course is in".
Santa María Golf snakes through a valley before rising into the mountains. The terrain means that half the holes are shorter but more complicated for play, and the other nine are longer and relaxed. Mostly large, the greens benefit the play on the longer holes and complicate a player´s life on the others, because of uneven levels.
Award-winning urbanisation.
Santa María Golf is not far from real estate, though existing construction is marked by a carefully planned architectural style. Quality is one of the main characteristics of homes in Santa María Village, a complex of apartments developed by Sifasa Group and designed by renowned architect Eduardo Oria (his other work includes Puerto Marina Benalmádena). It has received Bentley and International Homes´ prestigious awards for "best development in Spain" and "best development on a golf course".
"The complex provides Santa María Golf with even more prestige", says Saudi. Santa María Village comprises two and three-bedroom apartments, with impressive top-floor apartments of 200 square metres plus 200 metres of terrace space. Prices range from 350.000 euros, and all homes have sea views. "Great importance has been placed on the communal areas, which feature eight pools for only 200 apartments, something I believe has no comparison on the Costa", he says.
Other novelties include a revamp of the clubhouse bar-restaurant designed by architect of the golf course Ignacio García.
Coinciding with a re-launch of its gastronomic treats, it is the ideal place for both lunch and dinner.
---