Ambassador Martínez said the visit is a recognition to the country and the Cuban tourist product.
Prince of Asturias Felipe de Borbón visited today Cuba´s stand during a tour through the pavilions on occasion of the opening of the Tourism Fair (FITUR) in Madrid.
Cuban Tourism Minister Manuel Marrero and the island's ambassador to Spain, Eugenio Martínez, received Prince Felipe, heir to the Spanish, throne in the stand, in which the main Cuban products are represented. It also provides a rapprochement to its origin.
Video – Prince of Asturias visits Cuba´s stand at Madrid Tourist Fair.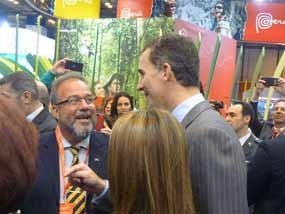 According to sources close to the Ministry of Tourism of Cuba (MINTUR), the heir to the throne of Spain is the highest personality of State that has visited the cuban booth since it was founded FITUR.
The stand of Cuba, always one of the most visited in the fair, shows in this edition a representative design of the architecture of legendary cities like Trinidad, Camagüey and Sancti Spíritus, whith 500 years.
Visitors will be able to get to know the new products that this destination brings to the fair, the cultural programs; as well as the latest news on golf, diving and nautical.
Info – IGGA International participates in the implementation and development of large tourism projects with golf course in Cuba: the Tourism Development Plan for Cuba, first master plan for the construction of golf courses on the island promoted by MINTUR since 2002; and, recently, the first investment, design and construction of 3 golf courses in the major tourist destinations of Cuba, Varadero, Cayo Coco and cays of Villa Clara, promoted by the Real Estate Company which belongs to the Cuban Army (FAR), in its short name ALMEST.
---