The archpriest Dmitry Osipenko has talked about the project of the first Russian Orthodox Church that promotes the Patriarchate of Moscow in Andalusia, with the architects of IGGA International.
Info – So far, the Russian community only has a small place to hold their religious events in San Pedro de Alcántara, but soon, the archpriest Osipenko will officiate the Eucharist in the most spectacular Orthodox Cathedral in Europe.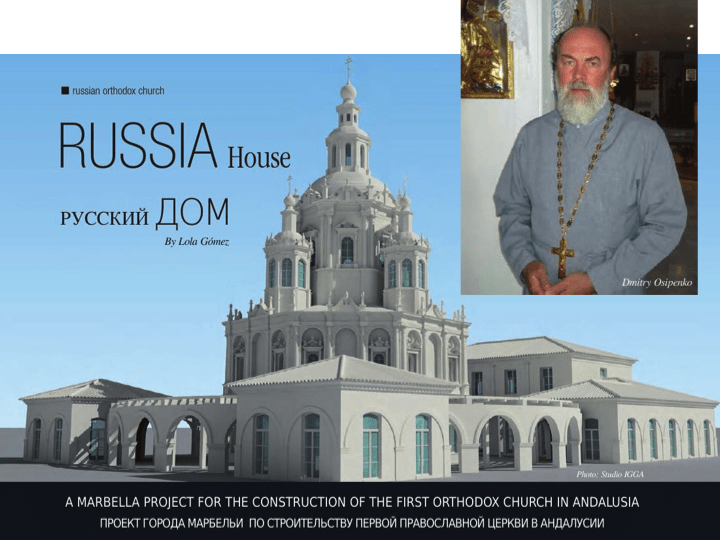 Marbella Town Hall has assigned a plot of 2,500 m2 for the construction of a Russian Orthodox Church and a cultural and social centre for the Orthodox Foundation, promoted by the Moscow Patriarchate, and managed by the archpriest Dmitry Osipenko.
The mayoress, Ángeles Muñoz, stated that the construction of the church, would encourage "full integration" of the Russian community in the city, home to more than 1,200 registered Russians, and ensure close ties with Russia.
The temple will be best owed to the Russian Orthodox Church. The Orthodox Foundation estimates that the construction, valued approximately three million euros, will be completed in two years and that it will be primarily funded by private donations from the large Russian community in the Costa del Sol.
Location – The plot is located in Nueva Andalucía (Azalea Beach) and will not be charged any fees.
Father, it has taken a long time before the project to build a church was accepted. Do you finally see a light at the end of the road?
Yes, now there is a widespread interest, thanks to the town hall of Marbella. It became clear that our society continues to grow, so the construction of the church will not only benefit the city, but also cause and a great tourist interest. Not only will it represent an important part for Russian living in Marbella, but also an attraction that will help distinguish the city among the others at Costa del Sol.
Have you received more proposals from other interested town halls?
Yes, I have also received proposals from Mijas, Estepona and Benahavís.
How would you like the design of the Church to be?
We want a traditional style, based on churches built during the thirteenth and fourteenth century in the north of Russia.
What does it means for the Russian community to have a church in Marbella?
They are very happy and grateful for the project. We have high hopes for the church and I want to thank the mayoress of Marbella for her great help and support, thank the congregation and ask them to pray for our church become another pearl of Marbella.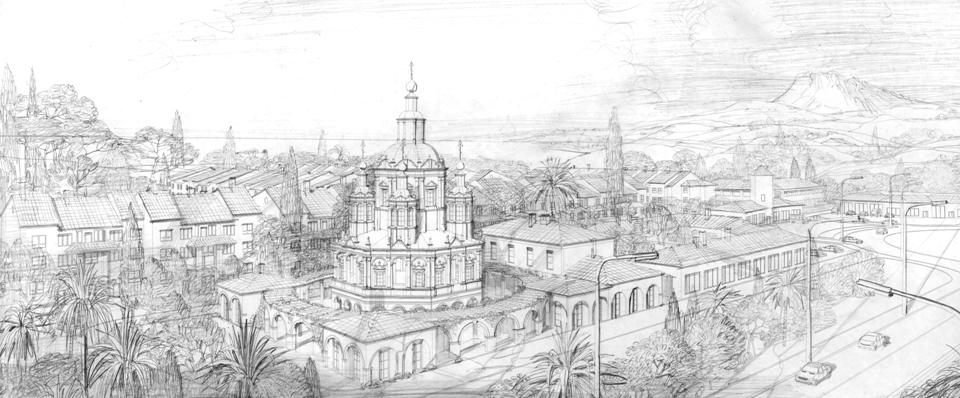 Illustrations – Mikhail Filippov, Russian artist specializing in drawings and watercolors of buildings and urban landscapes.
Read more – Interview is available in Russian language.
---
PDF
Press
Project
Web