Design and preparation of project.
We are specialists in golf course design and in projects of architecture and engineering of golf courses.
We design systems of irrigation and construction of lakes, drainage and earthworks, shaping and landscaping.
We take care of the big thing and the samll thing: Clubhouse, offices, professional shop, snack bar, restaurant, hotel; center of improving, academy and tees of practice; position of control, refuge and toilets in golf areas; dependencies for the staff of maintenance, stores, workshop and ship of machinery; infrastructures and interior roads, car park areas and parking of carts; networks of protection and furniture; between others.
Project Consultancy.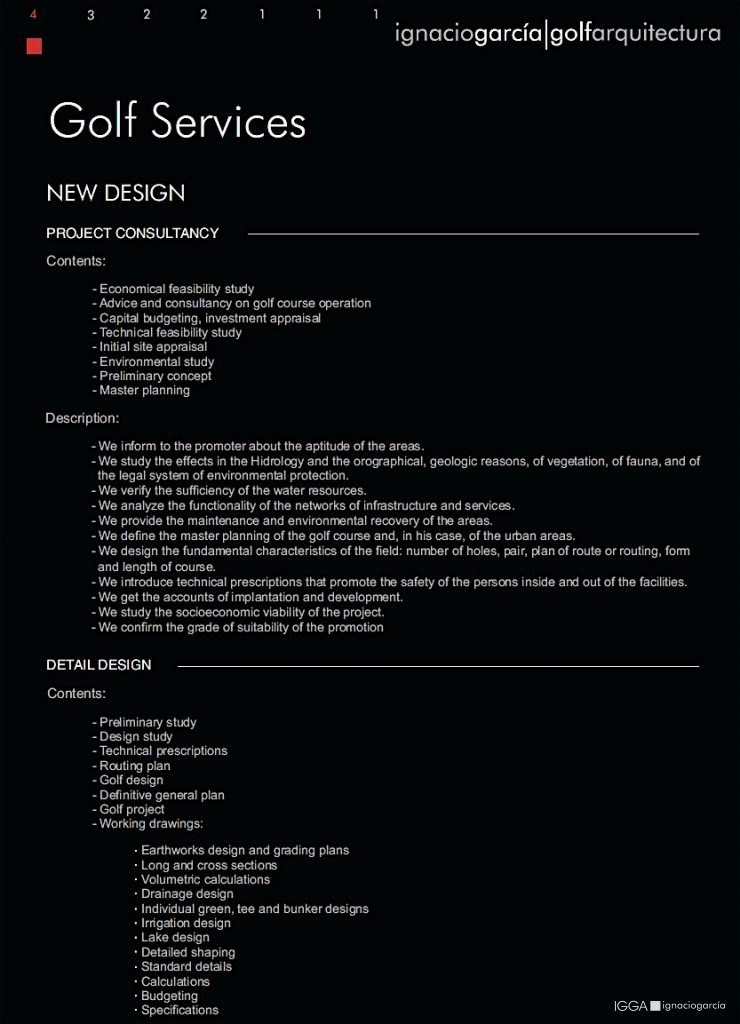 We inform to the promoter about the aptitude of the areas. We study the effects in the Hidrology and the Topography, with geologic reasons, of vegetation, of fauna, and of the legal system of environmental protection.
We verify the sufficiency of the water resources. We analyze the functionality of the networks of infrastructure and services. We provide the maintenance and environmental recovery of the areas. We define the master planning of the golf course and, in its case, of the urban areas.
We design the fundamental characteristics of the golf course: number of holes, pair, routing, form and length of the golf course. We introduce technical prescriptions that promote the safety of the persons inside and out of the facilities. We get the accounts of implamantion and development. We study the socioeconomic feasibility of the project. We confirm the grade of suitability of the promotion.
Design Supervision.
We are a team of professionals with experience in pursuit and direction of work of new golf designs and golf courses in functioning. We have specialists in all disciplines: design of golf course, architecture, urban design and town planning, engineering in topography, irrigation and environmental management, agronomy, greenkeeper and management.
---
---